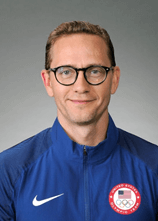 Dr. Jeremy Summers, DC, DACBSP®, L.Ac., ATC
Dr. Summers became a Certified Athletic Trainer at Park University in Parkville, Missouri, and completed his Doctorate of Chiropractic and Masters of Acupuncture and Traditional Chinese Medicine at Southern California University of Health Sciences in Whittier, California.
Dr. Summers relocated to New York to provide continued support to USA Fencing athletes for the rapidly approaching 2020 Olympic Games in Tokyo, Japan. This relocation also allows him to share the benefits of his experience with other athletes in his unique sports medicine system, that is, the art of caring for the "whole athlete," not just their ailments.
Get to know Dr. Summers more.